Dr. Cyrus M. Press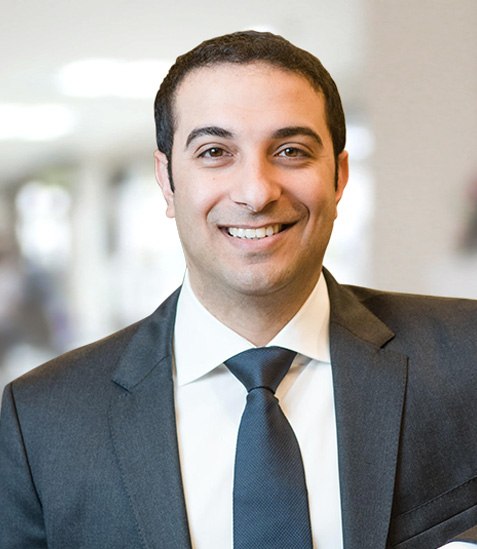 Dr. Press is a Board-Certified Orthopedic Surgeon who is a specialist in shoulder & elbow surgery. He has dedicated his career to practicing and advancing the field of shoulder surgery. He aims to help decrease pain and regain strength and function - all while providing the shortest recovery period possible. He performs some of the highest numbers of shoulder replacements in the VA/DC/MD region.
Dr. Press attended the medical school at the University of Illinois where he graduated with honors and served as its Class President. He was inducted into the prestigious Alpha Omega Alpha (AOA) Honor Medical Society - which is awarded to the highest achieving medical students in the country. He was also inducted into the Gold Humanism Honor Society (GHHS) which aims to recognize individuals who practice humanistic patient care and who can serve as role models, mentors, and leaders in medicine. During medical school, he received numerous awards for his leadership and advocacy on behalf of the students of his class. Upon graduating medical school, he remained at the University of Illinois where he completed his residency program in Orthopedic Surgery, where during his final year he served as Chief Resident. During that time, he received awards for academic excellence, patient care, resident teaching, and basic clinical research.
Following residency, Dr. Press completed another year of intensive training in Shoulder & Elbow Surgery at the Texas Orthopedic Hospital in Houston, Texas - located within the Texas Medical District - one of the largest medical centers in the world. While in Houston, Dr. Press had the opportunity to train under some of the most highly regarded shoulder surgeons in the world - with emphasis on rotator cuff repairs and total and reverse shoulder replacement. He worked on and presented novel clinical research which was presented at national and international shoulder society meetings, and some of his work has been nominated for the highest awards in shoulder surgery (Charles Neer Award).
These interests have continued into clinical practice. Dr. Press was elected into the prestigious American Shoulder and Elbow Surgeons (ASES) society and he serves as a reviewer for the Journal of Shoulder and Elbow Surgery (the premier shoulder and elbow journal for surgeons).
Dr. Press believes that every patient is unique and that treatments should be tailored specifically to them. This requires care and taking the time to listen to each person's goals. While some patients may require surgery, many do not. Dr. Press will help formulate a treatment plan that will help his patients get back to pain free function as quickly as possible. It is this level of commitment to patient care that has earned Dr. Press regional "Top Doctor" status each year since starting his practice.
NoVa Orthopedic & Spine Care Center - Woodbridge, VA
14605 Potomac Branch Drive
Suite 300


Woodbridge, VA 22191



(703) 490-1112
Lake Ridge Ambulatory Surgery Center
12825 Minnieville Road
#204


Woodbridge, Virginia 22192



(703) 357-9568
Potomac View Surgery Center
6710 Oxon Hill Rd,
Suite 150


Oxon Hill, MD 20745



(240) 766-2734
INOVA Springfield/Franconia Surgery Center
6355 Walker Ln
#200


Alexandria, VA 22310



(703) 922-9501
Sentara Northern Virginia Medical Center
2300 Opitz Blvd




Woodbridge, VA 22191



(703) 523-1000